2021 Mystery Saturday Sampler Class Progress Pictures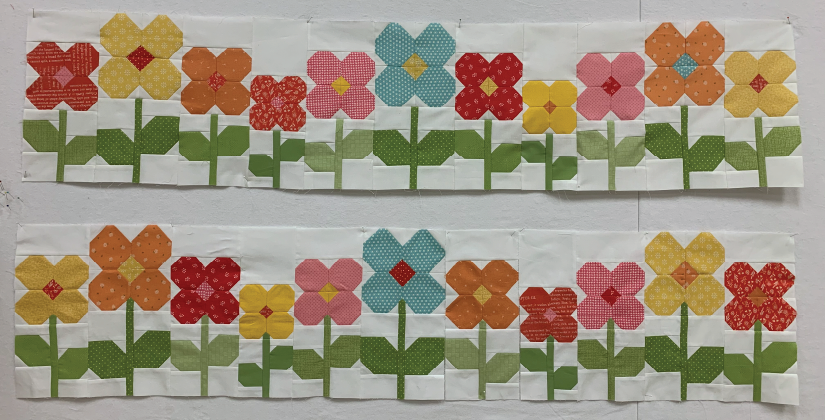 We hope you are enjoying sewing along for the Mystery Saturday Sampler from 2020 - 2021.  Make sure you are keeping up with your block making so you can easily assemble your beautiful quilt at the end!
Each month you can check back on the blog to get our updated images for this fun sew along!
July 2020 Block:
Bee Blocks, Don't Assemble.
August 2020 Block:
Butterfly Blocks on Point. Optional Assembly. Image coming soon! 
September 2020 Block:
Flower Blocks Set 1
October 2020 Block:
Flower Block Stems.  Remember that you can attach them with the applique method, or just leave them unattached. Complete your stems & attach to your flowers.
November 2020 Block:
Floral Row Assembly, Top Row Shows the Stems Unconnected, Bottom Row is the Applique Method. 
December 2020 Block:
Hearts Blocks.  Option Assembly without sashing.  Make sure you know which row you want to make. 
January 2021 Turnstile Block:
Remember to use your helpful suggested tool, the 3.5" Block Loc Ruler.  That will help you to accurately square these blocks before assembling. 
February 2021 Sawtooth Star Block:
Check the pattern for tips and tricks making this block! 
March 2021 Beehives & Bee Assembly:
Check the pattern twice before you cut! 3 bees fly right, 3 bees fly left. 

April 2021 House Block Row:
May 2021 Checkerboard:
Heather's row shown here is in rainbow order.  Leslie did not color assort hers, her row is random.  
June 2021 Completed Quilts:
Build your quilt with or without borders! Either way, you are going to love this assembled row quilt! Congratulations on making it to the end!
Backing sizes are suggestions, please measure your quilts!
Leslie's Quilt without Borders:
64" x 76"
Suggested 2 Yards 108" Wide Back or 4 5/8 Yards 45" Fabric
2/3 Yard Binding
Monica's Quilt with Borders: 
73" x 85"
Suggested 2 1/6 Yards 108" Wide Back or 5 Yards 45" Fabric
2/3 Yard Binding